How to Crowdfund your Website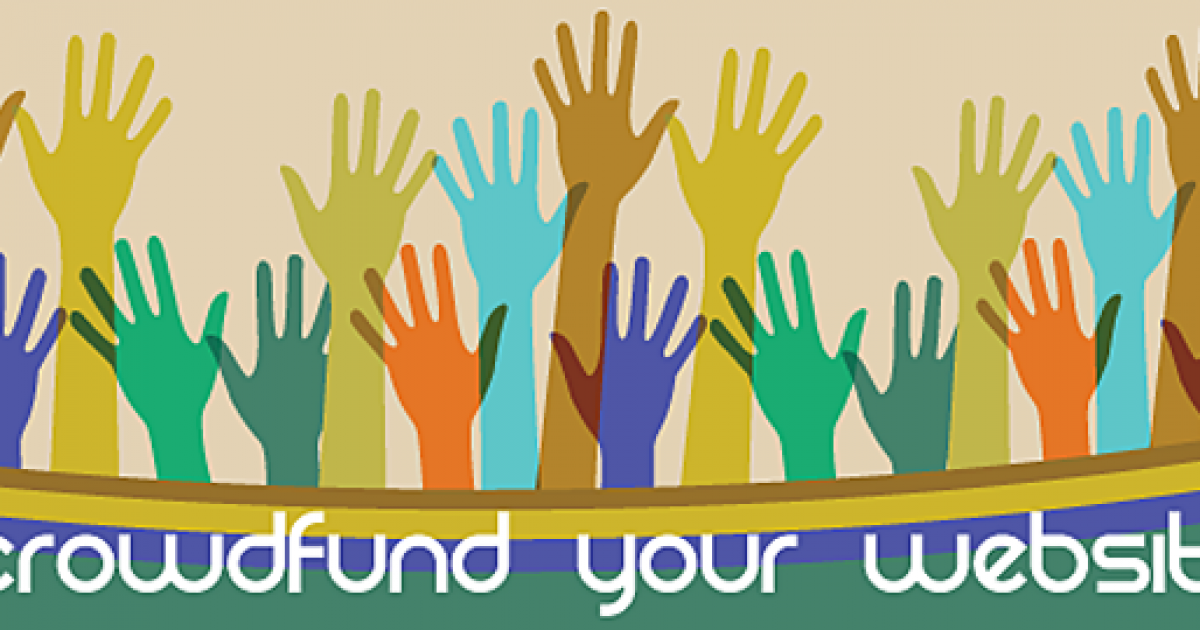 While it may sound easy to crowdfund for your website, it does require a little planning, forethought & work on your behalf. Investors aren't just going to throw their money at you because you think you have a good concept. It's up to you to PROVE that your project is worth it & why.
How Crowdfunding Works
The most common type of crowdfunding fundraising is where donations are sought in return for special rewards. You put together a campaign to raise money for your project (i.e. Getting a website built for your business). You highlight your strengths, your goals & objectives. Appeal to your possible investors by providing reasons why this project is important to your business, how it may help others in your community, and help users in general (i.e. A new responsive website will allow customers to access your website on mobile devices too & allow you to compete within your industry). You offer rewards in return for pledges (i.e. A 'Thank You' certificate for a £5 pledge, or a discount voucher of a nominated amount for a £50 pledge). You set a reasonable goal you want to reach, and a nominated time-frame you want to reach it in. Then you let everyone you know about your campaign, get them to spread it around and you further spread it around, to as many people as possible.
If you follow the tips below, it will give you a further leg up on your campaign becoming successful.
Tips for Crowdfunding
The presentation of your product while crowdfunding is very important. Explain WHY you need their support. It is just as important as the product you are pitching. Your story has to touch people, so you need to be able to express very clearly why what you are doing is so significant. Why is having a new website important to you?
Introduce your team to let your supporters meet the people behind your project.
Dream impressive and idealistic, stay focused & keep your feet on the ground. Efficiency, organization and discipline make a huge difference in the outcome. Take into account the many factors associated with creating a successful website, like how you intend to work it, and make it work for you.
Research similar projects. See how much work they put into their campaign. Check out their social networks & evaluate their post/update to sharing rate. Make note of their pledge to reward value, gauge their pace of funding and listen to comments made on campaigns. Both the successful and unsuccessful campaigns are left on the crowdfunding websites to check over.
Write your video script and be sure to have the storyboard of your crowdfunding video before you plan to shoot. Shoot two different video endings, one inviting people to sign up, the other inviting people to invest. Create a YouTube, Vimeo or other video network channel and upload your video & continue to promote it through there.
Normally a website further validates you are a legitimate company, which crowdfunding supporters like to see. However, as you're crowdfunding for a website to be built, a professional looking Facebook or Google+ page will suffice. The way your website and logos look makes a huge difference in whether an individual will put down his or her hard-earned cash.
It is essential to know how many units you need to sell to reach your crowdfunding goal. This will put your goal in perspective. Your funding goal should be the minimum amount necessary to execute your project. Smaller targets are easier to reach, so at least you come away with some funding. You could also look at crowdfunding different stages of the process. (i.e. Fund the website build, then fund the marketing, etc)
An often overlooked part of crowdfunding is spreading the word. Reach out to people you know before the launch. Most project's support will come from the people you know. Advise friends and friends of friends about your crowdfunding campaign. Use social networks, get others to spread the word for you too.
Reach the 20 percent benchmark as soon as possible. Projects lasting 30 days or fewer enjoy the highest success rates.
A budget will show potential backers that you've done your homework. Also it would be terrible if you meet your goal but then realize you underestimated how much money you needed. You can risk getting sued if you promise customers products or perks in return for donations, and then fail to deliver.
A business plan shows an explanation of why the money to build your website will take your enterprise to the next level.
Don't set a target that is too low, as you are responsible for delivering rewards to your backers if your campaign is successful. You are raising funds for your website & your incentives.
Plan ahead and budget accordingly for the costs of rewards offered in return for a pledge of funds.
Make sure the perks for low budget pledges don't run out too fast, or you risk losing potential backers.
Award your donors with reduced prices & reward your campaign backers by giving them a discounted price below the manufacturer's suggested retail price (MSRP).
Break your social networks into subgroups and customise your message for each one. Older, conservative relatives wont react to the same call to action as your younger nieces and nephews.
Follow up & highlight specific things about the project you think each individual might like. Focus on winning over people who matter most to your brand. (i.e Not everyone would be interested in you wanting to sell surfboards online & would see no need for a website).
Stay active on social media sites, until your crowdfunding campaign is complete.
Whether it's good news or bad, keep your backers and potential backers in the loop. Post regular updates on your crowdfunding or social network page, and keep updating after the campaign has ended (including in blogs on your new website).
Web Producer, Creative Director, Content Creator & Distributor at clearFusion Digital, & specializes in helping businesses plan & grow their website.