clearFusionCMS Press Release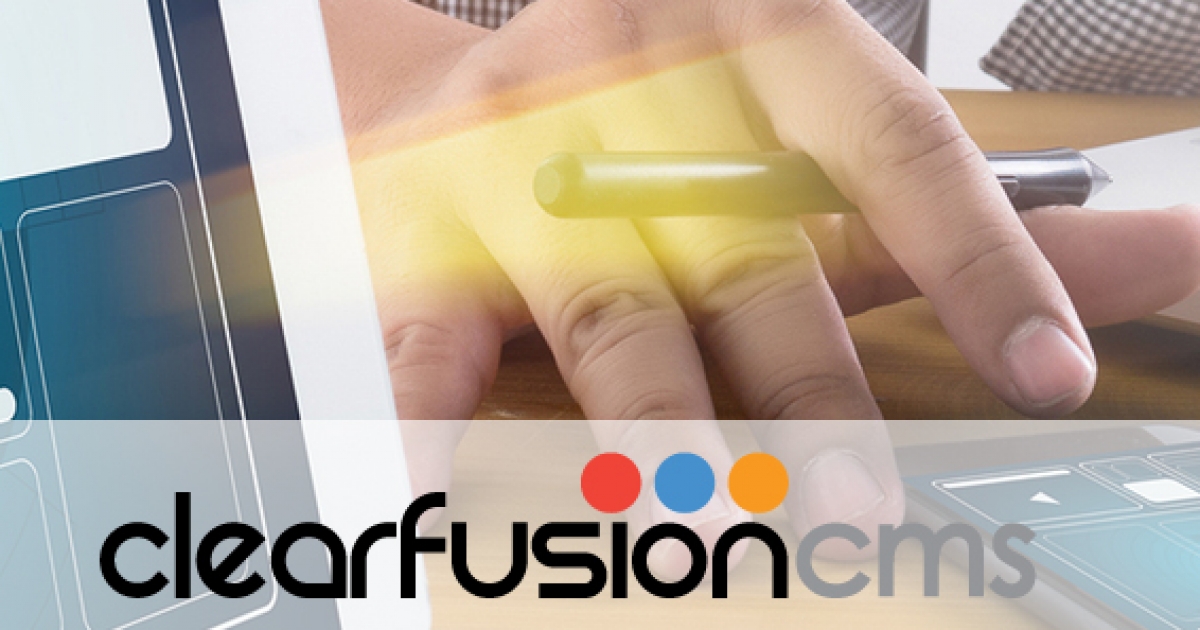 clearFusionCMS
A website is often the first impression customers have of your business. clearFusionCMS is ideal for companies wishing to step up their basic website to something more appealing, professional, unique & interactive. Websites can be created mobile responsive, an important feature since more and more people are shopping using mobile devices, and they can meet accessibility standards.
CMS Management
The clearFusionCMS dashboard is easy to navigate while creating, uploading & managing web content. clearFusionCMS also has tools for real-time collaboration, such as locking & audit trails to log histories & track issues.
The clearFusionCMS interface provides simple tools to add or delete content from the website, allowing development personnel to make larger changes. The CMS administrator can customise each user's interface to match their skill level and assign tools available to each user depending on their experience and requirements.
Content Management
clearFusionCMS is is a powerful content management system with easy-to-use web-development tools. It is simple to use, intuitive & offers the flexibility of tools with an easy-to-use interface. It offers drag-and-drop functions, video embedding, a social media image manager & file manager. It also includes inline or attached file serving & built in redirection.
clearFusionCMS is a great solution for a growing business with ever-changing website needs. The document manager offers a rich text, WYSIWYG editor with basic formatting tools found in editors such as Microsoft Word. You can also input raw HTML or formatted text. The drag-and-drop of preformatted blocks of content is one of the best tools for easily adding content to your website. The easy-to-use document wizard allows you to preview your content before you save and publish the final product. You can create a powerful website capable of handling large volumes of visitors and hundreds of pages of content.
clearFusionCMS allows you to format each page individually with videos and images, create layout modules, stacks and responsive grid points.
Customisation
clearFusionCMS has a lot of flexibility in programming the code to create attractive, useful and mobile-friendly websites. clearFusionCMS isn't overly complex or requires expert developer skills, and you can build a website without special coding or add your own coding. clearFusionCMS has multiple features and ready-made add-ons you can acquire for free or purchase.
clearFusionCMS is intuitive for web designers and provides a lot of creative freedom with easy access to important tools. clearFusionCMS is also a developer-friendly CMS built in PHP/MySQL, Javascript & HTML5, with well commented code & API documents available. An example of this adaptability, is that you have the ability to program your website in HTML5 and then apps in JSON.
Add-Ons & Mods
clearFusionCMS has a stable of standard add-ons that can meet the needs of most small businesses & which are normally included with any good content management program. These include blogs, forms, site maps, newsletter subscription, a gallery, search engines & more. These are basic features found on most websites.
clearFusionCMS has an addon for email marketing via MailChimp, Campaign Monitor and TOLRA Mail, an important feature for businesses that use their websites to gather leads. Email marketing capture is integrated with the e-commerce solution.
The blog comes with RSS syndication, support for Instant Articles, support for Accelerated Mobile Pages and comment moderation, and as with other documents within the website, it has site optimisation features to make sure you get the best search engine optimisation.
Support & Help
clearFusionCMS includes several technical support options. clearFusionCMS has online video tutorials and user guides with lists of codes to create a variety of business tools & applications. We can also can provide technical consultations and performance reviews. You can connect with us through email or through our social media pages, which include Facebook, Twitter, LinkedIn & Google Plus.
Security & Permissions
clearFusionCMS is regarded as being one of the most secure content management platforms on the market. You can password protect parts of the website so others can only work the parts of the system they need to. It includes content-approval tools, SSL compatibility & granular privileges that secure your content by limiting access according to administrative levels you set. clearFusionCMS is a good choice for sites that manage a lot of pages or have a large number of users.
Security measures available with clearFusionCMS help protect your important content during interactions with site visitors. clearFusionCMS also supports Captcha on forms to ensure that contributors sending information are human. clearFusionCMS offers a high level of security, with all data sanitised before being saved to a database. This prevents SQL injection attacks.
SEO & Social Media Optimisation
Optimising your website for search engines is critical when building a website. clearFusionCMS can be crawled effectively by search engines. It enforces one URL per content element, therefore reducing the chance of duplicate content. Page URL's can be changed, and when a page is dragged or relocated into another location, it updates the URL automatically. All META & OG data can be customised and easily changed, so you can optimise your pages for social media sharing.
Themes
Many other CMS platforms offer different themes and templates, but most of these are 'cookie cutter' templates & the sites using them all convey a similar look and feel. clearFusionCMS offers greater theming options for customisation. Resulting in your website being unique and easy to use.
Installation
The clearFusionCMS software is easy to download and install. As you start to build your website, you can then add modules such as galleries, blogs and document libraries.
clearFusionSHOP
clearFusionSHOP is built on clearFusionCMS and geared toward creating attractive and powerful eCommerce websites. Because it is built on the core of clearFusionCMS, you can also add general content pages, formatting each page individually to meet the needs of the content. clearFusionSHOP has extensive features for creating a product catalogue, with advanced pricing tools and the ability to add multiple attributes or variations.
If you have an online store, you will have different requirements to that of a standard website. clearFusionSHOP includes a variety of different options for eCommerce businesses of all sizes, such as shopping carts & inventory management. clearFusionSHOP also allows you to set up invoicing and billing, as well as shipping. clearFusionSHOP is a good choice if you have international customers as it supports multiple currencies and languages. clearFusionSHOP meets current laws and payment card industry requirements.
clearFusionPROPERTY
clearFusionPROPERTY is a mobile-friendly and SEO-friendly Real Estate Management System built on clearFusionCMS, and is a simple turnkey solution to build a real estate website and help real estate agents manage their listings. Create a website for a real estate agency and independent realtors, or a real estate portal. clearFusionPROPERTY includes an easy-to-use management dashboard, where you can manage listings database, staff members, site design, prices, and other settings.
Users can search for properties by distance within a specified radius.
At the moment it doesn't possess a CRM for managing client relationships, but this is a feature to be added soon.
Web Producer, Creative Director, Content Creator & Distributor at clearFusion Digital, & specializes in helping businesses plan & grow their website.
Related Posts